Agroecology is a powerful lever for solving major challenges that the current agricultural and food systems face such as vulnerability to climate change, erosion of biodiversity, land degradation, loss of soil-carbon, environmental pollution and water scarcity, among others.  
The Agroecology Coalition will take part in COP 28 (Dubai, 30 November-12 December) to advocate for the transformation of food systems through agroecology in relation to climate change. 
We have co-organized side events teaming up with several organizations and will participate as discussant in other events.
The list below will be updated with more information as they come available:    
1 Dec, 14:30 – 16:00

(Blue Zone, Future Economy Forum Pavillon, Agriculture, Food & Water Building): We will co-host the Solutions Dialogues on the "Blended finance to scale regenerative agroecological agriculture" with the Future Economy Forum.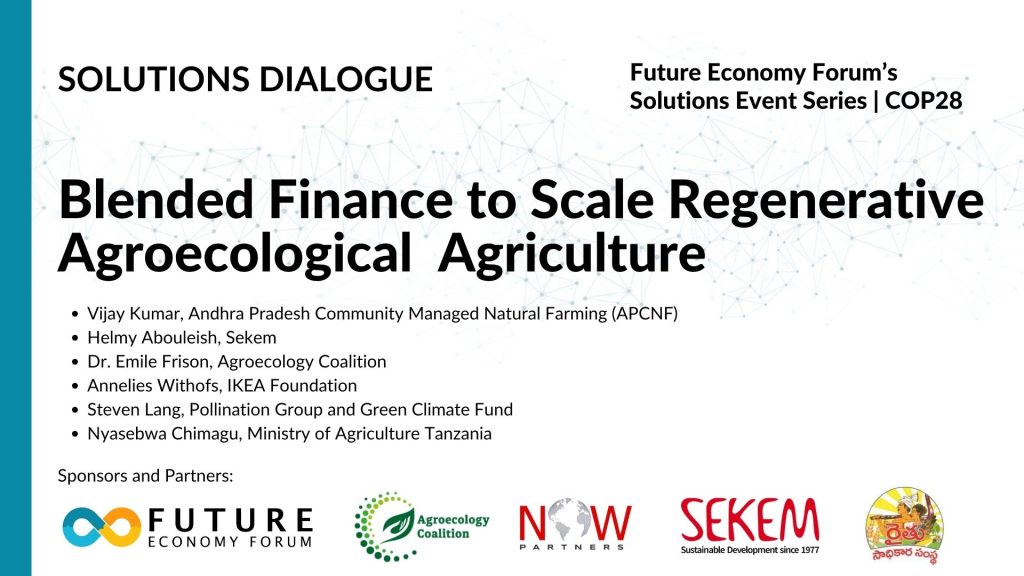 2 Dec, 11:00 – 12:00

 

(Food Pavillon):

 Emile Frison (Agroecology Coalition Senior Advisor) speaking at the plenary on "Ensuring Integrity: Who owns, defines and verifies regenerative food & agriculture systems?"

   More information here.

 

 

6 Dec, 10:00 – 11.30

(Women's Pavilion Majlis, Green Zone): Emile Frison (Agroecology Coalition Senior Advisor) speaking at the session speak at the session "Cities leading the way on sustainable food and climate" (ICLEI)
6 Dec, 15:00 – 16:30

(SE Room 8): Emile Frison (Agroecology Coalition Senior Advisor) speaking at the event "Agroecology as a Pathway for Climate Change Adaptation and Mitigation" (Co-organizers: Both ENDS Foundation, Alliance for Food Sovereignty in Africa (AFSA))

8 Dec, 9:30 – 11.00 am

(French Pavilion): Oliver Oliveros (Agroecology Coalition Coordinator) speaking at the event "Santé des sols : le maillon fort du développement durable" (Co-organizers: l'IRD, CIRAD 4pour1000)

10 Dec, 9:30 – 11 am

(French Pavilion): 

Tackling the triple

 

crisis: How sustainable agriculture can deliver on climate, biodiversity, and

 

sustainable development (Co-organizers: Agroecology Coalition, Global Alliance for the Future of Food, World Business Council for Sustainable Development, Food and Agriculture Organization of the UN)

 

 

11 Dec, 16:45 – 18:15

(SE Room 4):

 Shifting the Paradigm: Towards

 

Just, Equitable Low-Emission Food Systems through Agroecology (Co-organizers: Agroecology Coalition, Alliance of Bioversity International and CIAT, Biovision Foundation for Ecological Development, World Wildlife Fund ) 

 

 

12 Dec, 12:30 – 13:30

(Food Pavilion):

 State of the Science for Regen and Agroecology – From Evidence to Action (Co-organizers: Rockefeller Foundation,

International Maize and Wheat Improvement Center (CIMMYT),

Agroecology Coalition)

 
 In addition, some members of the Coalition are organizing side events:  
3 Dec, 12:30 am to 2:00pm

,

Integrated Community Forest Management (ICFM) for climate benefits, forest productivity and livelihoods of forest-dependent communities in Central Africa (Rainforest Alliance) 

 

4 Dec,

(Greening Education Hub)

,

Restore Nature with Innovations (ICENECDEV- International Centre for Environmental Education and Community Development)

8 Dec, 16:45 – 18.15

,

Integrated Landscape Finance: Funding Climate Resilience at Scale Via Local Action and Partnership (Rainforest Alliance) 

 

10 Dec, 11:00

, (Panda Hub) African Voices call for Nature Positive Adaptation (WWF)
To request additional information on the Agroecology Coalition at COP 28 please contact: secretariat@agroecology-coalition.org  
Picture credits: Kristof Nordin/ Never Ending Food